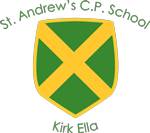 Online safety
We have a dedicated webpage that shows a wide selection of advice for children, parents and carers on the safe use of technology and the internet.
Class Dojo
If you need further information about using ClassDojo, please contact your class teacher who will be able to guide you.
Admissions Arrangements
For children wanting to join us at other points during their primary career, we ordinarily admit them at the beginning of the academic year in the September. The exception to this is if a family moves into our catchment area and we have spaces available in the relevant classes.
Visits to the school by prior arrangement are warmly welcomed.
Kirk Ella St Andrew's Community Primary School is a three and two form entry school. We are moving towards being a two form entry school in the future. At present Foundation, Year 1 and 4 have two forms and Years 2, 3, 5 and 5 have three forms.
All school places must be applied for through the Local Authority, East Riding of Yorkshire Council, via their website and is based on a specific criteria and the number of places available in school. All decisions regarding admissions are decided by the Local Authority.