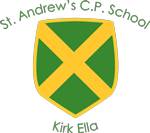 Online safety
We have a dedicated webpage that shows a wide selection of advice for children, parents and carers on the safe use of technology and the internet.
Class Dojo
If you need further information about using ClassDojo, please contact your class teacher who will be able to guide you.
Reading at Kirk Ella St Andrew's Primary School
At Kirk Ella St Andrew's Primary School, we use a wide range of strategies to promote a child's love of books. We hope to encourage children to become confident, independent readers. Children are provided with many opportunities to read, enjoy and share books as well as being exposed to a language rich environment, which provides access to many different types of print.
Reading at school takes place in a variety of ways.
The includes:
Phonics
Phonics is recommended as the first strategy that children should be taught when helping children to learn and read. Phonics runs alongside other teaching methods to help children develop vital reading skills.
We teach phonics every day in EYFS, Year 1 and Year 2 using a nationally accredited scheme called Little Wandle. Daily phonics sessions use this systematic Phonics scheme which covers the following:
GPCs (grapheme-phoneme correspondences): this simply means that children are taught all of the phonemes (sounds) in the English language and the ways of writing them down (graphemes).
Blending: children are taught to blend sounds together by merging the individual sounds until they can hear what the word is. This is a vital reading skill.
Segmenting: this is the opposite of blending. Children are able to say a word and then break it up into the phonemes that make it up. This is a vital spelling skill.
Meaning making: during the phonics sessions, words with focus sounds are also 'built into' sentences so that children are developing an awareness of sentence construction, as well as an understanding of the meaning of a range of words, so developing an ever-increasing vocabulary. The children are then tracked to ensure they are progressing at an appropriate rate. We aim to have children to be fluent readers by age 6. The children are provided with books that match their phonics level.
All staff are taken through Little Wandle training so they can support the children all across the school. Children who need further support in phonics are picked up in Year 3 as well.
Little Wandle support page for Parents
DEAR time
This stands for Drop Everything And Read. This is a special time in the day when the children and staff are given time to read. They stop what they are doing and give time over to it. It lasts between 10 and 20 minutes and encourages the children to read books and to get used to reading their books regularly for pleasure.
Whole class reading
Instead of guided reading groups and a carousel of activities, pupils have daily reading lessons as a whole class. These lessons:
Are built around the teacher reading high-quality and challenging texts, which are dissected by the class through high-level questioning and discussion.
Include a range of activities – not all of which have to have a written outcome – that enable pupils to develop their vocabulary and comprehension skills.
Why is this better than guided reading?
Pupils are regularly immersed in high-quality children's literature.
Pupils are able to improve speaking and listening skills, as well as developing comprehension skills.
More time is given to modelling skills rather than just assessing ability.
Behaviour for learning is improved as all pupils are engaged in the lesson
How does it work?
The teacher selects a high-quality piece of children's literature or non-fiction text that will challenge all pupils. It should be at a level beyond that at which they can read independently. The text can be linked to a relevant topic and used to benefit other subjects
The learning objective for the session is the same for all pupils. Pupils will have access to the same activities and levels of questioning but with differing levels of support provided depending on pupil needs.
The teacher reads the text to the class, modelling fluency, intonation and comprehension, and pupils follow the text with their own copy.
The teacher uses skilful questioning and discussion to help pupils get to grips with new vocabulary and develop their understanding of the text.
Pupils work on activities that help them to develop their comprehension of the text.
Depending on the activity, pupils may work in mixed-ability groups, pairs or by themselves.
Activities do not always need a written outcome, for example you may use drama to help children explore a character through role play, debates or freeze frames.
The teacher makes assessments at the end of the lesson to inform planning of future sessions.
Reading Schemes
At Kirk Ella St Andrew's Primary School, we have a range of reading books that have been combined to make our reading scheme. In Early Years and KS1 we match books to the phonics they are learning as well as having colour bands going through the school to year 6. Reading progress is reviewed regularly by teachers.
The scheme includes fiction, non-fiction and poetry books which are carefully selected to match reading levels and interests. We strongly encourage the reading of books that children are interested in and encourage children to supplement the reading books from school with others from home. Parents are key partners in children's learning and are requested to write a comment in the reading record book.
At Kirk Ella St Andrew's we nurture a love of reading for all different purposes, whilst giving our children all the tools they need to enable them to read well.
For more information on the curriculum please contact us here in school or go to https://www.gov.uk/government/collections/ national – curriculum