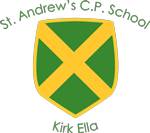 Online safety
We have a dedicated webpage that shows a wide selection of advice for children, parents and carers on the safe use of technology and the internet.
Class Dojo
If you need further information about using ClassDojo, please contact your class teacher who will be able to guide you.
Welcome to Kirk Ella St Andrew's Primary School
Eco School Council
The school has Eco-Council representatives for 2018 – 2019. They are responsible for listening to the children's comments and supporting the school to ensure that we are sustainable as we can be in school.
We hold regular meetings and children are asked to bring their suggestions to discuss.
We have a chairperson who runs the meeting and a secretary who ensures the minutes are taken.
All important suggestions are taken to our headteacher who then discusses the ideas at staff meetings.
We ensure that the representatives feel valued and enjoy 'having a voice' in our school.
The School has already achieved the ECO School Silver Award and is working on achieving Gold.
Our Eco Council Teachers are:
Mrs Fisk and Mrs Smith
Our Eco Council Governor is:
Mrs Edminston
Our Eco Council Representatives are voted for by the classes and each one has a representative.