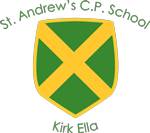 Online safety
We have a dedicated webpage that shows a wide selection of advice for children, parents and carers on the safe use of technology and the internet.
Class Dojo
If you need further information about using ClassDojo, please contact your class teacher who will be able to guide you.
St. Andrews Kirk Ella School – Newsletters
Our school newsletter is published each month and is sent home with the children, but we also publish them online.
Simply click on the newsletter you would like to read and it will open.
Here you can find our school newsletter archive in PDF format and available to download:
School year – 2020-2021