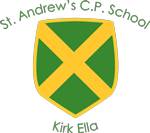 Online safety
We have a dedicated webpage that shows a wide selection of advice for children, parents and carers on the safe use of technology and the internet.
Class Dojo
If you need further information about using ClassDojo, please contact your class teacher who will be able to guide you.
Educational Visits
We are proud of the rich and varied curriculum we are able to offer our children at Kirk Ella St Andrew's Primary School. Our Year 6 children have the opportunity of taking part in our award winning residential trip every year in the Lake District. This is a fantastic trip and the children take part in a range of activities across the week.
Below are examples of some of the educational visits and extra-curricular activities arranged by the school in the last two academic years 2018-20:
| Year Group | Visits |
| --- | --- |
| Foundation | Yorkshire Wildlife Park, Haltemprice |
| Year 1 | Pink Pig Farm, Sundown Adventureland |
| Year 2 | The Great Fire of London Workshop, The Deep |
| Year 3 | Eureka, Burton Agnes |
| Year 4 | Murton Park - Anglo Saxons, Egyptian Workshop, Forest Schools, Far Ings Nature Reserve |
| Year 5 | River Hull, National Coal Museum, Greek day workshop, Magna |
| Year 6 | London Theatre trip to School of Rock, Residential - Lake District (one week), Murton Park - WWII |
Other Out of School Activities
We also take part in a wide variety of sporting competitions locally, regionally and nationally. The school choir visits various places around the area and, choir opportunities and we also visit our local church.
| Activities | |
| --- | --- |
| Sporting | Football, Swimming Festival, Netball, Cross Country, Sports Hall Athletics, Haltemprice Athletics, School Biathlon Championships, National Biathlon Championships, School Dodgeball |
| School Choir | Kirk Ella St Andrew's Church, Methodist Church, Willersley House, Little Brid Sing, Brid Big Sing, |
| | |