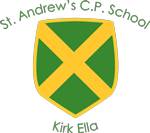 Online safety
We have a dedicated webpage that shows a wide selection of advice for children, parents and carers on the safe use of technology and the internet.
Class Dojo
If you need further information about using ClassDojo, please contact your class teacher who will be able to guide you.
The Kirk Ella St Andrews PTA
The Kirk Ella St Andrews CP School PTA has been an integral part of the school community for many years and is a group of parent volunteers who work together to raise money for the school.
Who are the PTA?
There is a core group of members who organise events and are aided by additional helpers giving odd bits of time to help ensure events run smoothly. They meet at least once a term and all parents are welcome to come along to the meetings and can be involved as much or as little as they like.
What does the PTA do?
They organise and run exciting and entertaining fundraising events throughout the school year.

Why get involved?
The PTA depends on parent/carer involvement. It is a great way to feel more involved with the school and to share your skills and experience to benefit the school, whether it be skills in event planning, marketing or design to face painting or baking or more, we'd love you to join them. If you would like to help out on the committee or with organising and running events, have any ideas how the PTA could 'do more' or just want more information about the PTA please contact the school reception and they will hand your details to Mr Cockshutt who will contact you
The events that we put every year include:
A Bake Sale
Sponsored Walk
Christmas Fair
Bags2School
Disco
Father's Day Stall
Mother's Day Stall
Sweet stall