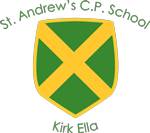 Online safety
We have a dedicated webpage that shows a wide selection of advice for children, parents and carers on the safe use of technology and the internet.
Class Dojo
If you need further information about using ClassDojo, please contact your class teacher who will be able to guide you.
Starting Foundation at Kirk Ella St Andrew's
Children in our classes follow the Early Years Foundation Stage curriculum and much of the teaching and learning is done through play based and child initiated activities both inside and outdoors.
Taking the children's interests as a starting point, the teachers plan a variety of activities designed to develop and extend children's learning and understanding.
Our curriculum enables us to tailor the education of each child by identifying and planning for their next steps of development through both the prime and the specific areas of learning.
The prime areas are:
Communication and language
Physical development
Personal, social and emotional development
The specific areas are:
Literacy
Mathematics
Understanding the world
Expressive arts and design
We record children's learning in a variety of ways including individual writing books, reading records, maths books, topic folders and learning journeys which may include photographs, observations and samples of work, both independent and teacher led. All of these are collated onto our online tool to enable parents to see and make their own observations. Parents are encouraged to contribute and share in their child's education.
We have made a video for our new children in the curriculum section of the website. Please click on Foundation Stage.